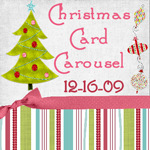 Faith
is having a Christmas Card Carousel over at her blog!! And thanks to her advice, I was finally able to get ours onto my blog!
Isn't Faith absolutely amazing!! She is one of the most talented individuals. She is so creative and artistic! And might I add, just gorgeous!!
Although our Christmas card isn't too fancy, it is very special to me. My cousin Eric helped take our picture on my Granny's property. There are many memories at Granny's house and I find myself longing to be in Ada as much as possible because she is there and it is land my Poppy farmed and kept cattle on. This year, I wanted to be sure I had something I could look back in years to come that showed their land. So we chose the large pond or "tank" that Poppy stocked with catfish when he came home from fishing. If Poppy were here, I think he would be delighted we used his pond for a backdrop!
Although I live in a big city now, I still love going back to the country!
Merry Christmas! May you experience love, peace, joy, and hope in Christ this Christmas as well as the upcoming year. May you truly know Him and His greatness. My prayer for you is that you would have a personal salvation relationship with Jesus Christ!
Merry Christmas!!